Auto Accidents
Legal Help for Those Injured by Negligent Drivers
All drivers have a responsibility to be safe on the roads, but unfortunately, many don't take this responsibility seriously enough. For example, using hands to operate a mobile device while driving is illegal in California, yet some drivers continue to do so. Distracted driving can cause accidents with life-changing and even deadly injuries that range from concussions to debilitating spinal cord damage.
Auto Accident Attorneys in Los Angeles
The auto accident attorneys at the Law Offices of Michael Burgis & Associates, P.C., will work hard to help you get back on your feet after a car or truck accident. A collision can leave you with medical bills to pay and a family to support without one breadwinner. We're here to listen to your story and reduce your worries.
Common Motor Vehicle Accidents in California
The most common cases we work with clients on include:
Car Accidents

With the notorious Southern California traffic, it's no surprise that car crashes are the most common accidents. There are over 150,000 collisions that cause serious injuries in California each year.
Truck Accidents
Semi trucks are dangerous to other drivers because of their size. In addition, truck drivers often spend a lot of time on the road, making them fatigued and even more dangerous. A collision with one of these trucks can cause considerable injuries or even death to occupants in smaller vehicles. Company lawyers representing the truck drivers may try to avoid or underpay liability claims, making these cases challenging.
Motorcycle Accidents
Motorcyclists are in danger of being the cause or the victims of the most serious accidents. Unlike trucks that are dangerous because they're big, a bike's small size can be a danger as well, making it hard to see. The involved drivers are particularly vulnerable on the road if an accident occurs.
Complex Motor Vehicle Accidents
We're also equipped to handle cases involving multiple vehicles, drunk drivers, disputed liability, or negligent drivers without insurance.
Automobile accidents can turn your life upside down. But our skilled team of lawyers is well versed in all of these and many other types of cases, and they're always prepared to defend you.
Our Personal Injury Lawyers Seek the Maximum Compensation for Your Injuries
The Personal Injury attorneys at the Law Offices of Michael Burgis & Associates, P.C., will protect your rights and support you throughout your case. We'll seek fair compensation for your injuries and lost wages from missed work days, and help you pay medical expenses to make your life feel whole again.
We're also ready to confront greedy insurance companies on your behalf. Insurance companies are not concerned about your emotional and financial struggle after such accidents. But we're here to support you at every step. Our team of lawyers will investigate your case with a comprehensive approach, taking it to court if necessary, to get you the compensation you deserve.
Our Auto Accident Lawyers Offer a Free Consultation to Discuss Your Concerns
You should not have to suffer because of someone else's careless driving. Schedule an appointment online with us or call our Los Angeles office at (888) BURGIS1 for a free consultation. For all Personal Injury cases, we operate on a contingency fee basis. That means you don't pay any attorney fees unless we win your case.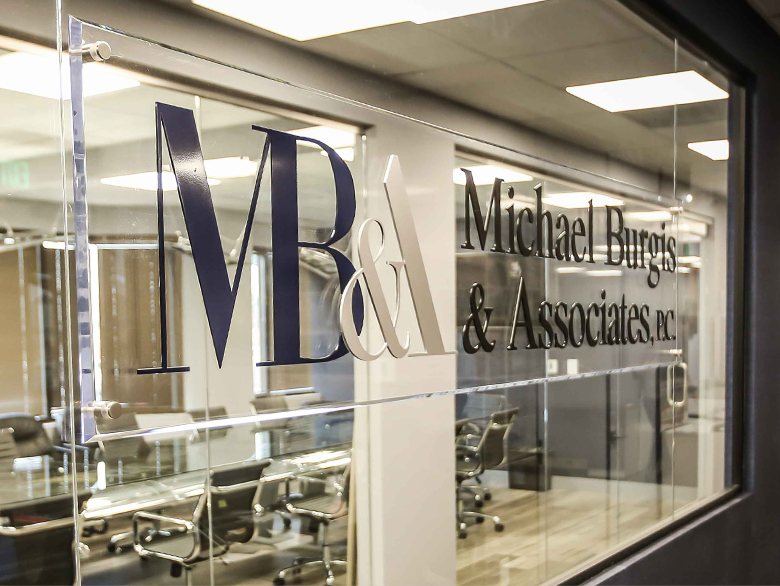 Contact Us For A Free Initial Consultation
We are not like other law firms. Once you have spoken with us, you will not want to go anywhere else.
or call us (888) BURGIS1