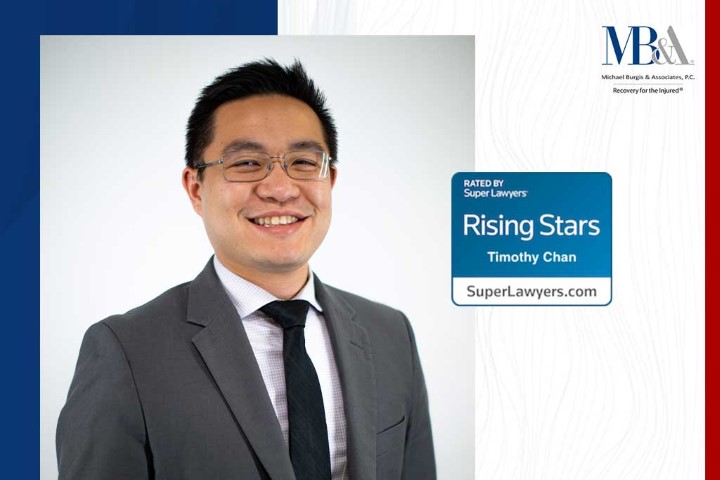 Announcing Timonthy Chan as a RisingStar for 2022
Jan 27, 2022

Blog

Michael Burgis & Associates, P.C
The legal team at Michael Burgis & Associates P.C. is proud to congratulate Timothy Chan as a 2022 Rising Star. As a workers' compensation trial attorney, Timothy Chan is both aggressive and knowledgeable, the perfect candidate for a designation bestowed by one of the most highly trusted attorney rating sources, the Thomson Reuters Corporation.
How Are Rising Stars Selected?
The Rising Star selection process is similar to the Super Lawyer selection process. The main difference is that Rising Stars must be in practice for fewer than ten years or be younger than 40 years of age. While 5% of lawyers in the state are ultimately chosen to be Super Lawyers, only 2.5% of attorneys are selected as Rising Stars.
The selection for both designations begins when a lawyer's peers nominate them. This is generally done by peers who have personally observed the potential Rising Star in their work. Once nominated, a rigorous vetting process then takes place. A 12-point evaluation is carried out. Those not selected as Super Lawyers will be evaluated for the Rising Star criteria. An additional Rising Star evaluation process will make this final selection.
How Do Rising Stars Help the Consumer?
Consumers don't automatically know a lawyer's knowledge and skill in the practice area; they require legal counsel. At the same time, consumers naturally want to hire a lawyer who will excel at representing them. Therefore, they are forced to carry out extensive and time-consuming research on their own.
A better way of finding a high-quality lawyer is simply looking for the Rising Star designation. When an attorney has been designated as a Rising Star, you can know automatically that they have the experience and expertise needed for your case. It's a way of giving consumers an automatic head start when they need to find the best lawyer in their desired practice area.